ALPS30 Manual Heat Sealer Manual Heat Sealer Each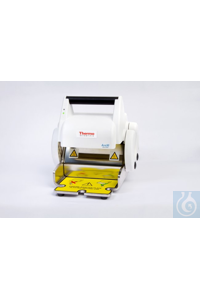 La imagen es solo una referencia, puede diferir e incluir accesorios no disponibles en el producto.
Número de artículo.: AB0400
Solicitar Precio
para 1 Pieza más IVA (21%) más costes de envío
ALPS30 Manual Heat Sealer
Protect your samples from evaporation and contamination when performing PCR or sample storage with the Thermo Scientific™ ALPS 30 manual heat sealer. Perfect for sealing small numbers of plates in low- to medium-throughput applications, the ALPS30 unit is small enough to keep on the bench and not take up a lot of space. Its simple, ergonomic manual operation provides quick, efficient sealing at your fingertips.
Compatible with virtually any height microplate or block, including PCR plates
Comes standard with three adapters to accommodate most plate types
Can be operated with the wide range of Thermo Scientific heat seals for any application, including pierceable, optically-clear and permanent seals
Consistent heat seal provides dependable protection for your PCR or sample storage plates
Prevents contamination and evaporation, yielding more reliable results
Features a built-in thermostat to prevent overheating
LED indicator lights show when power is on and when unit is heating
Small and lightweight–easy to carry
Small footprint–doesn't take up a lot of bench space
Three adapters included to accommodate most plate types:

PCR Plates
Deepwell plates and blocks
Standard-height 96- or 384-format plates
Weight (English): 8.8 lb.
Power Supply: 110-120 / 220-230 VAC nominalIEC C13, 3-Core, 5A min
Sealing Temperature Range: 170°C (Non-adjustable) ±2°
Description: Manual Heat Sealer
Weight (Metric): 4kg
Hertz: 50/60Hz
Humidity Range: 20 to 80% non-condensing
Voltage: 110-120/220-230V
Certifications/Compliance: CE marked
Dimensions (L x W x H): 250 x 220 x 230mm (9.8 x 8.7 x 9.1 in.)
Electrical Requirements: 3.15/1.6 amps
For Use With (Application): Microplates
+ info
Fabricante:

Thermo Scientific - Matrix

Artículo-núm.:

AB-0400

Validez:

31.12.2020

Última actualización:

31.12.2019