Stereomicroscope stand (Pillar), with c-shape base; without holder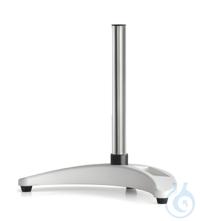 La imagen es solo una referencia, puede diferir e incluir accesorios no disponibles en el producto.
Número de artículo.: OZBA6301
265,00 €
para 1 Pieza más IVA (21%) más costes de envío
With our universal stands and basic stands, as well as microscope heads and external illumination units, you can configure your microscope to your own specifications and adapt it to your application. Thanks to the versatile, adjustable universal stands it is possible to work in the very best way in all areas with the most varied of samples. Small universal stands are available as stand base variants as well as with the option of a bench clamp for the edge of a bench to be fixed to your desk or your workbench. Depending on the model, you have the choice of a telescopic arm stand or a double arm universal stand with ball bearings The spring loaded universal stands including bench clamp will make your daily work with your stereo microscope easier. Now including coarse adjustment knob for easy, flexible focussing.
+ info
(-) Datos técnicos:
Peso neto:
4,6 kg
Código EAN:
4045761177758