Moisture analyzer, 1 mg ; 60 g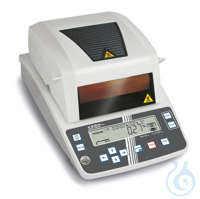 La imagen es solo una referencia, puede diferir e incluir accesorios no disponibles en el producto.
Número de artículo.: DBS603
1.270,00 €
para 1 Pieza más IVA (21%) más costes de envío
Tip: Suitable for samples with low moisture content, e.g. plastics Backlit Grafik display, digit height 15 mm [[1]] Drying process active [[2]] Previous drying time [[3]] Current temperature [[4]] Unit for displaying the results [[5]] Current moisture content in % [[6]] Active heating profile Halogen quartz glass heater 400 W Excellent temperature control thanks to halogen technology, suitable for temperature-sensitive samples Internal memory for automatic sequence of 10 complete drying processes and 100 drying processes carried out The last value measured remains on the display until it is replaced by a new measurement Sample description for up to 99 samples, 2 digits, freely programmable, and is printed in the measuring protocol Date and time display as standard USB data interface for transferring weighing data to the PC, printer etc. Can only be used in combination with KERN accessories 10 sample plates included Protective working cover included with delivery Application handbook: On the internet, you will find a practical application handbook containing many examples, field reports, settings and tips for each KERN moisture analyser Password protection to prevent manipulation of stored settings, data, etc.
+ info
(-) Datos técnicos:
Peso neto:
4,6 kg
Código EAN:
4045761124226
Fabricante:

Kern

Artículo-núm.:

DBS 60-3

Categoría:

Analizadores de humedad

Validez:

31.12.2020

Última actualización:

30.04.2020