Climatic Test Chamber MLR-352-PE, volume: 294 liter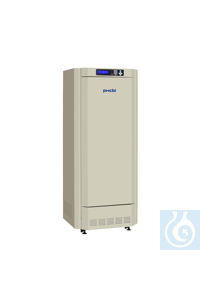 La imagen es solo una referencia, puede diferir e incluir accesorios no disponibles en el producto.
Número de artículo.: MLR352PE
Solicitar Cuenta Usuario y/o Precio
para 1 Pieza más IVA (21%) más costes de envío
Climatic Test Chamber MLR-352-PE
volume: 294 liter

The MLR-352 Climatic Test Chamber has been recognized as an exceptional unit suitable for a wide range of applications. The wide variety of temperatures, humidity and lighting patterns that are essential in research, environmental studies and testing can now be accurately reproduced and controlled.

The microprocessor P.I.D. and refrigeration capacity control minimizes temperature fluctuations and thereby improves temperature control. This allows precise experiments plus energy and electricity savings.

Programming of temperature, light, and humidity can be used for small plants, environmental tests, algae, drosophila, etc. Easy calibration of temperature and humidity can be calibrated easily through the control panel. Small lightweight, high molecular membrane-type humidity sensor also boasts a high degree of accuracy and reproducibility.

Graphic LCD panel with pop-up menu function on control panel provides visual display of operation and allows intuitive operation.

PHC Europe B.V. also offers the MLR-352H-PE, which has humidity control.
+ info
(-) Datos técnicos:
Volumen nominal:
294 l
Anchura del espacio de trabajo:
520 mm
Altura del espacio de trabajo:
1,135 m
Profundidad del espacio de trabajo:
490 mm
Anchura:
760 mm
Profundidad:
700 mm
Altura:
1,835 m