Basler Microscopy ace 1.3 MP 200 incl. Microscopy Software and Accessories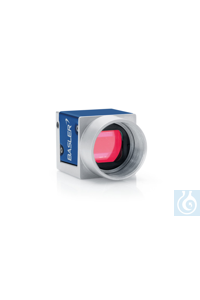 La imagen es solo una referencia, puede diferir e incluir accesorios no disponibles en el producto.
Número de artículo.: 107386
Solicitar Cuenta Usuario y/o Precio
para 1 Pieza más IVA (21%) más costes de envío
Quick view:
Mono / Resolution (H x V): 1280 px x 1024 px / Frame Rate: 200 fps / Sensor Size: 1/2" / Pixel Size (H x V): 4.8 µm x 4.8 µm / Dynamic Range: 56.3 dB
Precise and reliable image acquisition with high-quality Basler cameras. All necessary components at your fingertips for a comfortable system set-up and easy installation. Incl. cable and professional micrscopy software for imaging and analysis.
www.baslerweb.com/MicroscopyPowerPack
Camera specifications: Basler Microscopy ace 1.3 MP 200
• Ideal choice for moderate to challenging microscopy applications e.g. in life science, fluorescence, diagnostics, materials science, engineering technology and forensics
• Exceptional performance of Sony PREGIUS CMOS sensors with excellent light sensitivity and very high dynamic range (56.3 dB)
• Resolution of 1.3 MP (H x V: 1280 px x 1024 px) with outstanding image quality, high contrast and exceptional color reproduction
• Unique image enhancement and color adjustment algorithms optimized for microscopy for precise and reliable true-to-life results
• Ultra-high frame rates of up to 200 fps for smooth live video preview, fast focusing and sample screening, as well as for capturing fast moving objects
• USB 3.0 interface for plug-and-play and high-speed data transfer even at full resolution
• Color / Sensor Size: 1/2" / Pixel Size (H x V): 4.8 µm x 4.8 µm
Compatible and tested accessories included in each PowerPack
• Basler Microscopy Software for camera control, image acquisition, processing, analysis and documentation; camera and software are well-matched to ensure reliable performance; easy installation as well as intuitive user interface
• Tested USB 3.0 cable which fits just right to your chosen microscope camera; tested for high quality; supports your system for easy plug-and-play and reliable operation
+ info
(-) Datos técnicos:
Marca Registrada:
Basler®
Fabricante:

Basler

Artículo-núm.:

107386

Validez:

31.12.2020

Última actualización:

15.11.2017