Safety Burner Bottle gas G 1/4 needle valve, safety pilot, thermocouple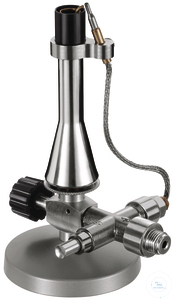 La imagen es solo una referencia, puede diferir e incluir accesorios no disponibles en el producto.
Número de artículo.: 13311
Solicitar Precio
para 1 Pieza más IVA (21%) más costes de envío
air regulation, G ¼ left-hand-tread Burners according to DIN 30665 cannot be switched off completely. A small flame remains burning even if needle valve or stop cock are turned off. The gas flow shall be disconnected by means of the central stop cock in the laboratory.
(-) Datos técnicos:
Peso neto:
400 g
Combustible:
Propan
Fabricante:

Usbeck

Artículo-núm.:

1331/1

Validez:

31.12.2020

Última actualización:

31.12.2019